John Hoenig's Collaboration with the Tasmanian Aquaculture and Fisheries Institute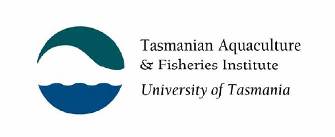 The Tasmanian Aquaculture and Fisheries Institute (TAFI) is a part of the University of Tasmania. It was originally a research and management facility for the Government of Tasmania. To this day, the Institute maintains its responsibilities for assessing fishery resources. Thus, its mandate of research, teaching and advisory service closely matches the tripartite mission of VIMS.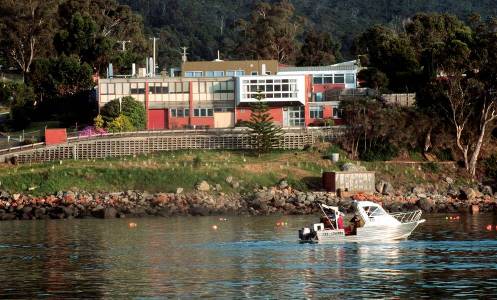 View of TAFI from the water
I have worked with Drs. Stewart Frusher and Caleb Gardner on assessment of southern rock lobster stocks. Stewart Frusher took a leave of absence from TAFI to spend six months at VIMS doing his doctoral research with me; I served as his supervisor for the University of Tasmania. My student Thomas Ihde conducted part of his doctoral research on rock lobsters at TAFI with Stewart Frusher. And, upon finishing his doctorate at VIMS, my student Todd Gedamke visited TAFI to discuss joint research on assessment of scallop stocks in Tasmania.


Professor Stewart Frusher is my colleague and former student. We have written 10 papers on various aspects of assessment of southern rock lobster stocks.


My former student Tom Ihde doing doctoral research on one of TAFI's boats in Tasmania.
Professors Romuald Lipcius and Rochelle Seitz from VIMS have also conducted collaborative research with TAFI scientists and plan to continue these efforts.
In recognition of the close interests of the two institutes and to encourage and facilitate continuing collaborative efforts, VIMS and TAFI signed a Memorandum of Understanding to formalize ties. Each institute has agreed to support educational, research and advisory exhanges.
An exciting possibility is the offering of conjoint degrees by the two universities. This is where a student would spend time at each university and receive a joint degree conferred by the two universities. In August and September of 2007, I visited TAFI and began discussions with faculty there on this idea. It will be some time before such a program can be implemented (if it happens at all). However, in the meantime, it is possible for a VIMS student to spend time at the University of Tasmania if his or her advisor can cover the student's expenses. Of particular interest to VIMS students is the TAFI program in Quantitative Marine Science.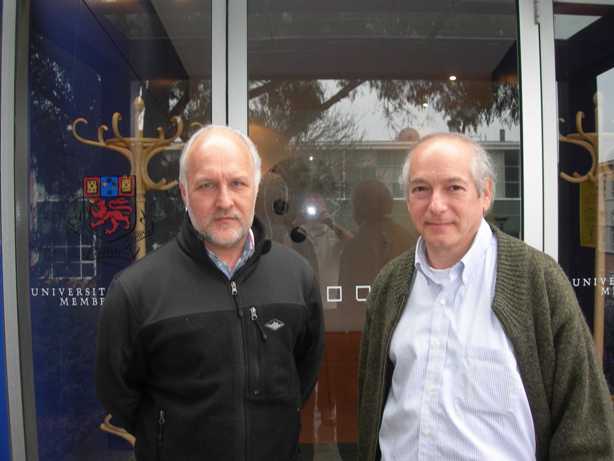 Professor Hoenig meeting with Prof. Richard Coleman at the University of Tasmania to discuss the idea of the two universities awarding conjoint degrees.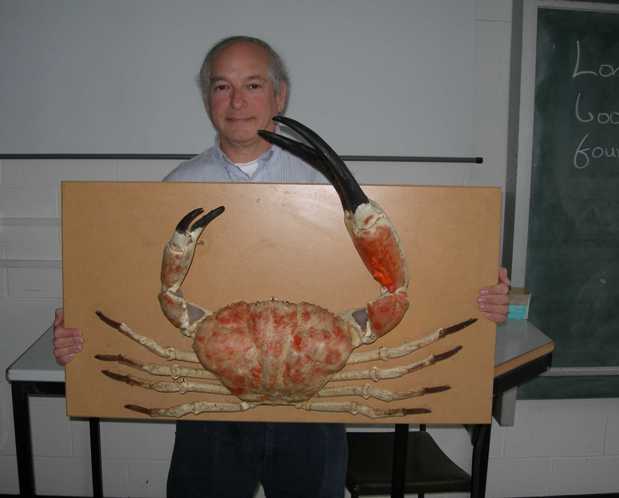 Dr. Hoenig holding a large specimen of Neocarcinus gigas found off the coast of Tasmania. The specimen is in the collection of the University of Tasmania.
During September, 2007, I conducted a review of TAFI's rock lobster program. The review focused on the adequacy of sampling, including the proper roles of fishery-independent and fishery-dependent sampling, the importance of having long-term monitoring stations, the implications of poor recruitment in the North, and various other issues. TAFI requested the review because it wanted an independent evaluation of whether the assessment was collecting and utilizing the most important data and whether it was using the best methods available to evaluate stock status.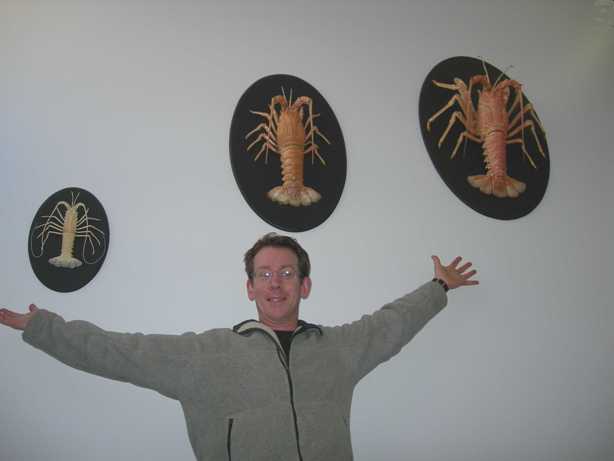 Dr. Caleb Gardner, head of TAFI's rock lobster assessment program, showing some impressively large lobsters.