Diving at VIMS
Some students are surprised to learn that diving plays only a small role in the overall research program at VIMS. To be sure, diving is a key component of some programs. But, in my department, Fisheries Science, only two professors (Lipcius and Hoenig) use or are planning to use diving for research purposes. Most of my students have been open water divers but only one has used diving in her research. If you're thinking of applying to VIMS for your graduate studies and would like to use diving in your research, it is important that you talk with your prospective advisor about diving possibilities.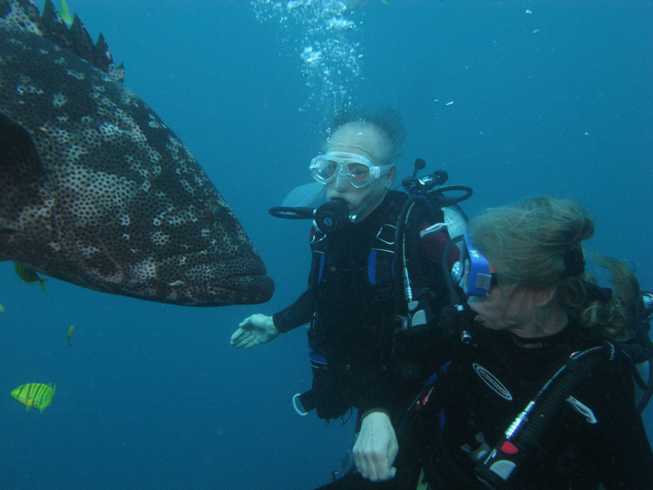 Prof. Hoenig and his wife Nadine with a large "cod" (grouper) and juvenile golden trevally, Osprey Reef, Australia.
Before you can do any diving for VIMS, including any activities using VIMS equipment or facilities or involving research under the auspices of VIMS, you must be a member of the VIMS dive team. Currently, there are about 25 people on the Team. You'll have to be already an open water certified diver (PADI, NAUI or SSI). You'll then have to go through a rather extensive procedure to join the team. It will include passing a swim test (swimming 400 yards in 12 minutes, swimming 25 yards underwater on one breath, towing a person 25 yards), taking a course in cardio-pulmonary resuscitation and first aid, learning to administer oxygen, passing a written test, as well as demonstrating diving proficiency in the pool and in open water dives. If you're a very experienced diver, you may be admitted to the Dive Team as a scientific diver. Otherwise, you may be accepted as a scientific diver in training. Your diving activities for VIMS will be restricted according to your level of abilities, although the dive review board will make every effort to accommodate the needs of your research in a safe manner. If you're interested in becoming a member of the VIMS dive team, read the VIMS webpage on diving and contact Wayne Reisner in the Diving Safety Office.
Learning to Dive
If you're not a diver but would like to learn, you'll have to take a diving course leading to open water certification. VIMS does not offer this, but you can take a course at a local dive shop. The cost is generally somewhere around $250. Some dive shops offer a free introductory dive in their swimming pool. My family and I went to a dive shop in Virginia Beach. They showed us a short video, then outfitted us with scuba gear and took us into their swimming pool where we tried out the equipment in 3 feet of water. Then, when we were ready, we went to the profound depth of 10 feet. We were thrilled and immediately signed up for their dive course. The Dive Quarters in Virginia Beach is one shop offering dive courses in its own swimming pool. Underwater Adventures in Hampton also offers courses and does the pool work at a nearby YMCA. To complete your certification, you'll need to do several open water dives. The dive shop will help you schedule that. In the warm part of the year you might go to Lake Rawlings near Richmond to do your dives. We went to northern Florida for a long weekend (leaving Friday evening and coming back Monday night very late) and got to do a drift dive, night dive, and dive into a freshwater spring while gaining our certification. We also got to snorkel with manatees.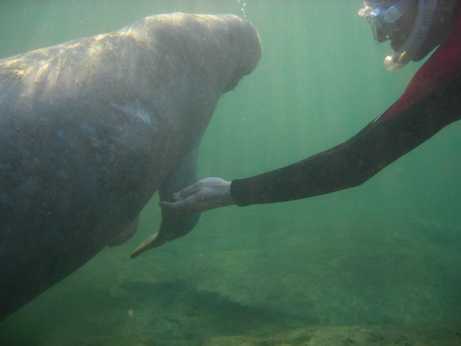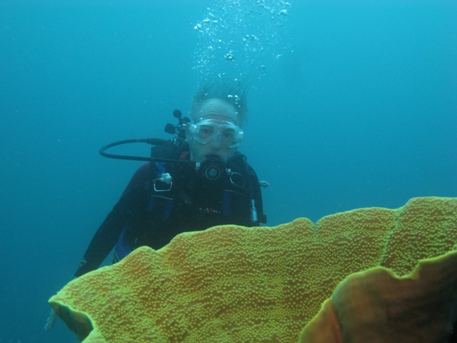 Left: Prof. Hoenig with a manatee in the Crystal River, Florida. Right: Prof. Hoenig on the Great Barrier Reef, Australia.
Although the swimming requirements for being on the VIMS dive team are rather rigorous, the requirements for getting open water diver certification are much less. Generally, you need to swim some laps at your own pace, tread water for 10 minutes, and be comfortable in the water. Diving always fascinated me but intimidated me as well. I imagined that I would panic easily and thus be a terrible candidate for diving. But, the skills you need are not difficult to learn and after you practice them they become very natural. On my first dive after getting certification, someone accidentally kicked me in the face with his or her fin and dislodged my mask. Without thinking, I reached for my mask and held it in place while I cleared the water out of the mask. As I did it I remarked to myself that it was interesting that this was no big deal at all. All I can say now is "Why did I wait so long before learning to dive?!"
Some worthwhile links:
DAN - Divers Alert Network. DAN offers low cost insurance to evacuate you and transport you to a treatment facility should you get injured on a dive trip (the injury doesn't have to be dive related - if you trip on the dock and break your ankle you're covered). Also has 24-hour emergency phone service to help with medical advice, and answers non-emergency questions during regular business hours.
Dive Training Magazine. I think this is the best diving magazine. I've learned a lot from it about diving technique, safety, equipment, etc.
PADI Foundation. The PADI Foundation makes small grants to graduate students to help with their research. My student Lynn Waterhouse successfully competed for an award in 2008. From the Foundation's webpage: "The PADI FOUNDATION encourages and supports underwater science, environmental projects, and education. The Foundation will fund and assist worthwhile projects that will enrich mankind's understanding of the aquatic environment and encourage sensitivity to and protection of the delicate ecological balance of underwater life." and "In 2009, the Foundation expects to award a total of approximately $180,000 and will consider proposals with budgets up to $20,000 although the average for proposals will be on the order of $5,000 to $10,000. The Foundation will not fund overhead or other indirect expenses."